Here, you can access your textbooks and perform other functions.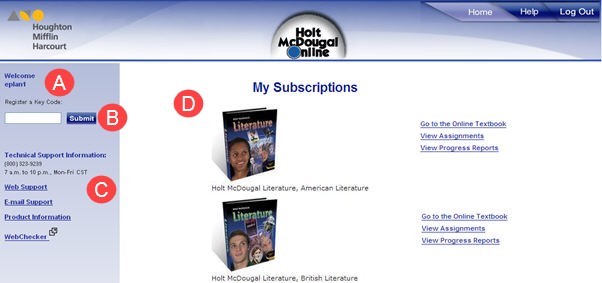 A
Welcome — Your account Username displays under Welcome at the top of the pane. Make sure that your username appears here and that another student is not logged in.
B
Register a Key Code — You can add another program or product by entering a Holt Key Code and clicking Submit. Your teacher will provide information if this is necessary.
C
Support and Other Information
Technical Support Information — You can call the number listed during support hours.
Click Web Support to open the customer care website.
Click Email Support to send an email to customer support.
Click Product Information to open the Holt McDougal Product website.
Click WebChecker to run a browser compatibility check for application plug-ins.
D
My Subscriptions — Your learning content is displayed, including online textbooks. Links may include:
Go to the Online Textbook — View the textbook and other resources related to the textbook. If your instructional program is modular, you will have links to each module.
Online Essay Scoring — Open a website with tools for evaluating your writing and preparing for standardized tests.
View Assignments — Click to view a list of online assignments. In some cases, you work directly with online tests or activities here. To start an assignment or test, click Begin Test/Assignment.
View Progress Report — View your scores for tests and other assignments.